How often do we make the cross-cultural worker's motto: Be all things for all people? Tucked away in 1 Corinthians 9, Paul discourses on the freedoms found in Christ only to state he has made himself a slave to everyone for the sake of the gospel. From this one chapter, we've come to believe Paul's meaning to be that we never say no to opportunities, ministries, and people. . . because being all things to all people means if I don't do it, who will?
Is this the cost of preaching the Good News that Paul is endorsing?
Let's imagine that the gospel is more nuanced than this. God in-stated Sabbath, Jesus practiced Sabbath, and Paul often didn't attend to every ministry need in person or make it to all his intended "good work" opportunities. It seems there were times to say no, times to rest, and times to trust God to fulfill his purposes in his ways.
Paul himself often spent a great deal of time discerning with others the direction for ministry focus, or where and how to serve and sometimes he wasn't the one to do the work. For the church to grow, others needed to serve, step up and take up their cross in the Kingdom and Paul knew he'd only be in the way if he did it himself. And let's not forget the amount of time he actually spent imprisoned. If the growth of God's church depended on Paul being literally "all things to all people" then I'm not sure the Gospel would have spread in quite the same way. Paul knew the value of the body of Christ and he lived unified and grafted with them under Christ.
I share this because often we define success in cross-cultural Great Commission Work by the amount we do, busyness, how many people we are reaching, or being constantly burnt out for the cause. If we aren't tired, then we must be doing something wrong, right?
It is easy to grab hold of a compelling message that sounds purposeful and thrusts us into ministry without considering the consequences, it's a challenge to humble ourselves in prayer to discern God's direction in ministry, to wait in silence for a still small voice, or to still our hearts to notice the subtle movements of the Spirit. The latter is the slow work of God that Jesus never rushed, nor did Paul.
Consider some of the ways you have measured success in your cross-cultural work throughout your career. Perhaps it is souls saved, programs flourishing, businesses turning profit, churches planted, students welcomed to your home for Bible study, leaders trained; whatever your measure of success, what has been the toll on your soul? Did it require burnout, taking on ministries or roles that God didn't actually invite you to do, neglecting family responsibilities, or losing sleep, hair, weight or compassion?
The purpose of this Examen is to help you sit with the Spirit and consider how you have been making decisions and measuring success in your ministry alongside the health of your soul and relationship to God and others. Use it to discern how your definition of success in your cross-cultural work has been shaping your heart, life rhythms, and relationships. This practice is a gift for you to spend time with the Holy Spirit to notice how God desires you to define success.
Before you begin, consider Joshua 1, where the Israelites are about to enter the Promised Land. As God commissions them, this is what he says:
Only be strong and very courageous; be careful to do according to all the Law which Moses my servant commanded you; do not turn from it to the right or to the left, so that you may achieve success wherever you go. This Book of the Law shall not depart from your mouth, but you shall meditate on it day and night, so that you may be careful to do according to all that is written in it; for then you will make your way prosperous, and then you will achieve success. (Joshua 1: 7-8 NASB)
God isn't proposing a health, wealth, prosperity narrative that if you do A then B will happen. This is God himself reminding them that apart from God, they will accomplish nothing, for success is found only in pursuit of God and a deeply rooted relationship with Him. We hear this echoed in John 15 when Jesus entreats us to remain in him as he remains in the Father. Apart from Christ, we can bear no fruit. When our life is not grafted into God, discerning his will, following the Holy Spirit, how effectual can we be, how successful will our ministry really be?
As a former cross-cultural worker, I know the internal struggle of wanting to make a difference and to see tangible results that I can report home. So much of my identity was wrapped up in that way of serving. I acknowledge these motivations are natural, but as I left the field, this way of living caused me to painfully wrestle to find my value when my idea of success in ministry was cut short. It is never too late to re-examine, together with God, how he envisions success in the Kingdom of God here and now. I hope you will find wells of encouragement as you practice this Examen for Success in Great Commission Work.
A Prayer of Examen: Re-imaging Your Idea of Success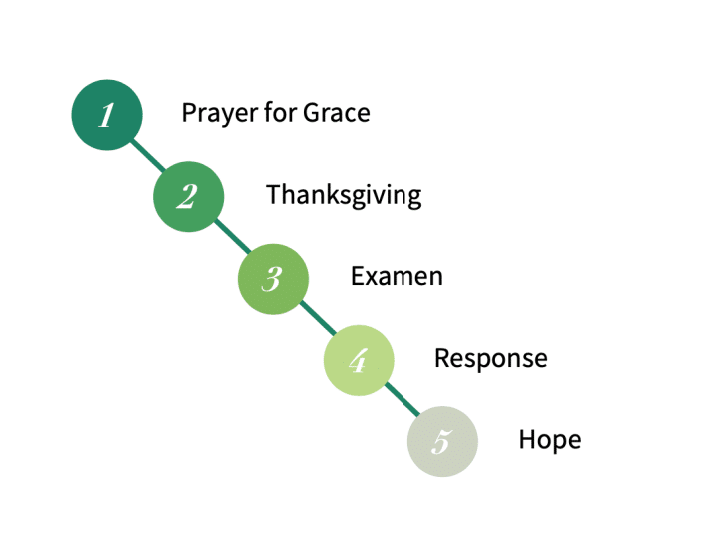 At the core of our service to God, to the work we do, and to the people group with whom we serve, lie motivations. It takes deep spiritual discernment with the Spirit of God to begin noticing the motivators we serve. They could be pride, a need to be accepted, desire for praise, pressure to please, fear of failure, wanting to make a name for ourselves, even to change the world: we all serve lesser spirits, but how and where are they manifested in our lives?
This Examen is designed to help you spend intentional time noticing what motivations for success influence how you minister. This Examen is meant to create open space in your heart so that together with God you can explore your internal motivations in ministry and ultimately your definition of success. Even if you are in a healthy place in ministry, this Examen can only deepen your grafted-ness in Christ.
We have a longer, more thorough version for you to do once a week this month and a shorter version for you to do several times a week in the month of October.
Photo by Marina Reich on Unsplash