Advent is a season of waiting and preparing for new life to be birthed. Statio is a holy pause. We pause before we transition into a new change. In the Psalms we use the word Selah to signify pause.
It seemed fitting to combine the two in a prayer practice for Advent. As we prepare by stilling our hearts for the birth of Christ and the beginning of a new liturgical year, we pause to remember Christ has changed the course of eternity for all humanity. It takes a holy pause to absorb this new reality. Selah.
To guide you in a holy Advent pause, you have three spaces for a pause this Advent:
A 10 Minute Pause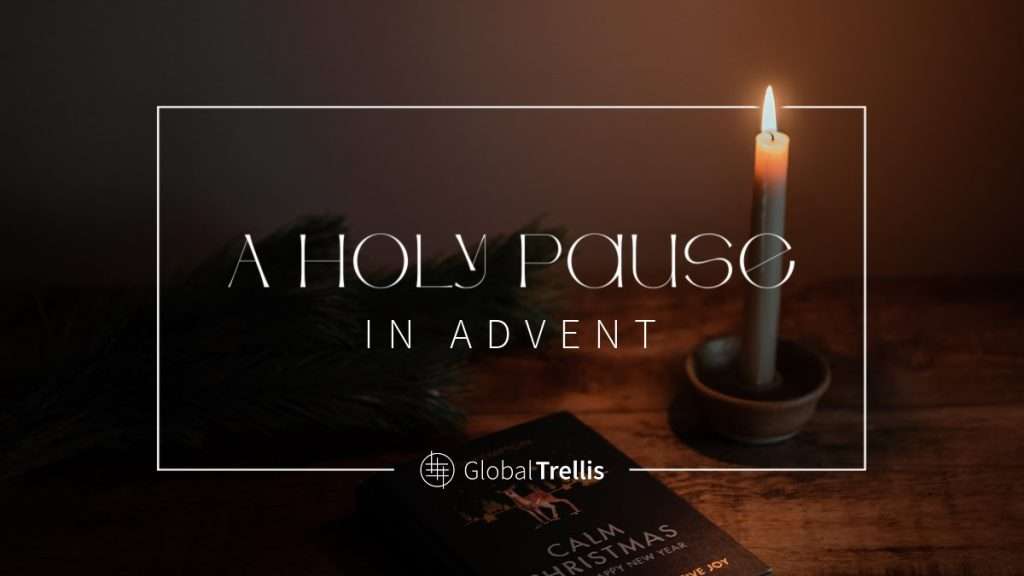 Every Tuesday of Advent, Lori Ferrell or Elizabeth Forshee will lead a ten minute Lectio practice using scripture. You'll find it on the blog, and it will be emailed to those subscribed to the Global Trellis articles. Subscribe here.

A Visual Pause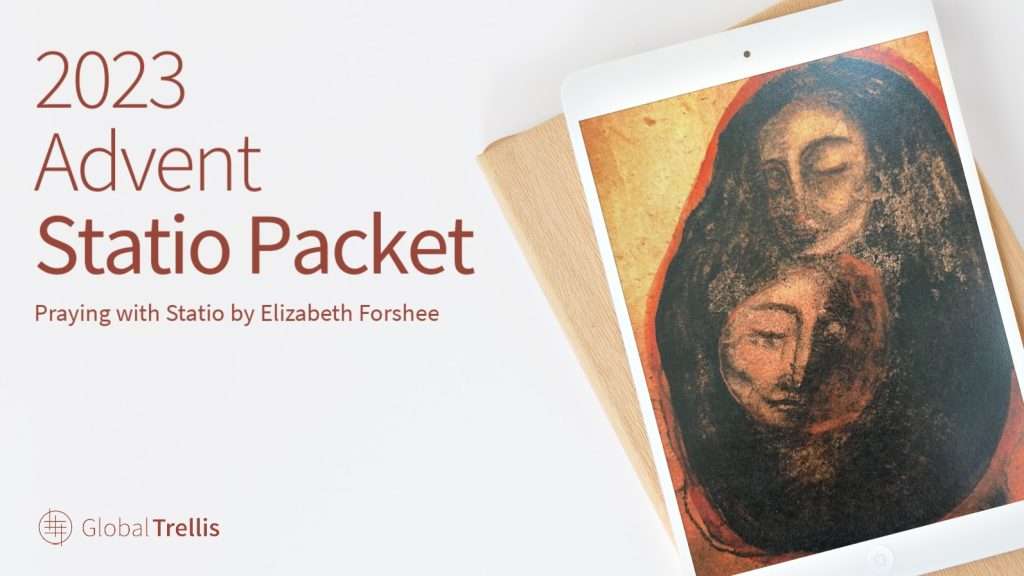 Elizabeth Forshee has chosen a piece of artwork to complement the weekly reading. The artwork are combined in a packet and will allow you to grow your sense of vision, imagination, and hope found in the gospel narrative. Purchase the packet here.
A 90 Minute Retreat Pause
We have two retreats, one near the beginning of Advent and one in the middle. You're welcome to attend either one or both as the content will be different. They are also offered at different times to try to accommodate all time zones around the world. The retreats include the artwork packets.
Making Room Retreat with Lori Ferrell
This retreat offers an opportunity to pause and consider how we can make room (hold space) in our lives during a busy time of the year. We will engage in contemplative spiritual practices and creativity to help us reflect, and then have a time to share with the group what is stirred in each of us. You are welcome to participate in any way that feels comfortable for you. My hope is that you will feel encouraged and inspired to make room for noticing your loving Immanuel during the Advent season.
Friday, December 1st from 7:00 a.m. MT/9:00 a.m. ET to 8:30 a.m. MT/ 10:30 a.m. ET. This retreat is 1.5 hours. Time zone converter here.
The retreat will not be recorded to create a more intimate experience. We hope you can join!
---
Laboring Toward Hope Retreat with Elizabeth Forshee
This retreat offers an opportunity to express our longings and desires for our ministry, life, and God's Kingdom through various forms of prayer leading toward a movement of choosing Hope in the midst of darkness. Hope is a promise, but one we must choose. This retreat will help us join together in laboring with God toward Christ's hopeful vision of all things made new.
Friday, December 15th 5:30 p.m. MT/7:30 p.m. ET to 7:00 p.m. MT/ 9:00 p.m. ET (so those in Asian Time can join there Saturday morning.) This retreat is 1.5 hours. Time zone converter here.
Purchase either or both retreats here.
---
One of the works of art that Elizabeth has selected is The Census at Bethlehem 1566, by Pieter Bruegel the Elder. In the packet Elizabeth wrote, "Enter the busyness of the Dutch village in winter and see if you can find our Holy Family entering for the census. Then read the meditation. Spend time looking at all the different elements of this painting. Pay close attention to all the details. Imagine yourself entering the frenzy in need of shelter and food. What feelings stir as you imagine that reality?"
Even as you enter "the busyness of a Dutch village," you can experience Holy Pauses this Advent — pauses that involve your ears (10 minutes a week), your eyes (the packet), and your whole being (the retreats). Pauses often don't happen, but they make the rest of life all the richer. Which of the pauses do you need to build into Advent this year? Invest in your pauses by purchasing one of these resources here.